Porodo PDX413-SL Gaming Wireless Earbuds Gaming Earbuds True Wireless by Porodo Gaming, enjoy your gaming sessions without any external noise or disturbances. Gaming Earbuds True Wireless by Porodo Gaming is made from premium-grade materials, these earbuds allow for many years of reliable use. It features Bluetooth 5.0 for a stable connection with other Bluetooth-enabled devices. Its IPX5 technology ensures superior resistance against water. The Gaming Earbuds wireless design eliminates the need for pesky cables. You can tap and hold the right earbud for two seconds for easy switching between Game and Music modes. Thanks to the compact box, these gaming earbuds enable convenient storage when not in use.
Highlights:
Charging Case Battery: 400mAh
40-65ms Low-Latency
Dual Mic Crisp Sound
5H Playing Time
Touch Controls
Game Mode
Music Mode
IPX5

Gaming True Wireless Earbuds
Listen to music, pay attention to your game and the sounds in the game and stay sharp, stylish, and professional all with Wireless Earbuds Music/Game Mode. Tap and hold the right earbud for 2s to switch between Game Mode and Music Mode. Porodo Gaming True-Wireless Earbuds come with five hours of playtime. These earbuds have dual-mic crisp sound. It has touch control which means after you touch the right earbud the mode will switch between game mode and music mode. The charging case battery is 400mAh. The low latency rate for these earbuds is 40-65ms which proves that the audio inputs remain synced throughout your gaming sessions. You can listen to the music with high clear sound quality or change the mode to gaming and enjoy your game more than before, it's up to you, to choose and enjoy. These earbuds are waterproof with IPX5which means can resist a sustained, low-pressure water jet spray.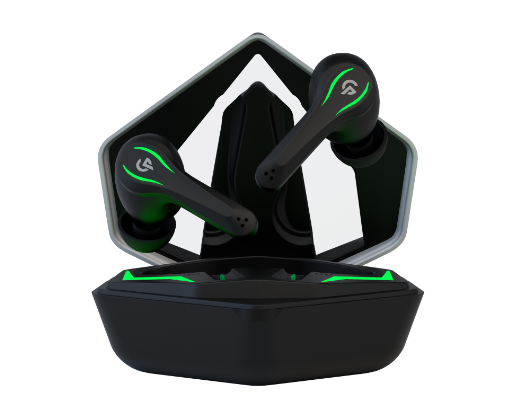 Product : Gaming True Wireless Earbuds
Brand: Porodo
Model: PDX413-SL
Bluetooth Version: Version5.0
Bluetooth Distance : 10m
Battery : Polymer Battery 3.7V, 50mAh
Charging Time : 1Hour
Touch Ability : Yes
Gaming Mode: Yes
Waterproof Level : IPX5
Color: Silver
Basic Operation
1 . Power on: Open Lid and earbuds boost up automatically, or long-press MFB for 35, there is a "power on" prompt tone.
2. Power off: Put back to the case and close the lid, earbuds are automatically off, or long-press MFB for 5s, and there is a "power off" prompt tone
3. Single Click: Left earbuds (L) Volume Down, Right earbuds (RI Volume Up
There is a beep at maximum or minimum volume.
4. Double Click: Play/Pause; Answer Call/Hang up Call; Reject call when on calling mode
5. Triple Click: Left earbuds (L) Skip Back, Right earbuds(R) Skip forward
6. Voice Assitance: Long press Left(L) for 2s to wake up Siri with a beep, Long press for 2s to exit Siri with a beep
7. Game Mode: Long press Right (R) for 2s, prompt "Beep Game mode" to enter game mode; Long press for 2s, prompt "Music mode" to enter music mode
8. Factory Reset: Earbuds on and unconnected, quickly click MFB 5 times to clear pawing data, both earbuds LED lights are on, automatically off after as. Put earbuds back into charging case, close the lid, open the lid and connect again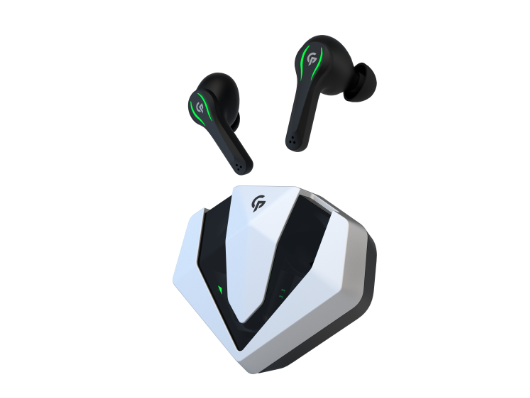 Gaming True Wireless Earbuds
Bluetooth Pairing Instructions
1- L&R earbuds Pairing: Left and Right earbuds auto pair, Master earbud quickly flash when paring succeeds, slave earbud light goes off
.
2- Connect to the device: both earbuds lights go off when connected to the device. Search for Bluetooth name "MDO12", and click and connect.
3- Automatically connect back: After the first connection is successful, earbuds will connect to the last paired PDX413 by default